A Century of Success 1907-2007, Our 100th Year.

A hundred years ago the entrepreneurial spirit of our founder created an organization that would establish a reputation for manufacturing quality. From humble beginnings, today Wm. Steinen Mfg. Co. is a global organization and a leading provider of high quality products in specialty markets. Steinen has embraced a philosophy that emphasizes growing its business, enhancing its product offerings and expanding its customer base.
This Centennial Brochure celebrates the history and accomplishments of our company. Looking back at the last one hundred years (with the assistance of words and pictures published in our 50th and 75th anniversary booklets!) also reminds us of the opportunities of the next one hundred years if we preserve the values of the past, adapt to the present and anticipate future market demands.
To see our 100th Anniversary Booklet Click Here
A Message from Our President
The success of Wm. Steinen Mfg. Co. reflects largely on the contributions of many – our customers, suppliers, employees and shareholders. We would like to thank all of you for your support, trust in our products and dedication to our goals.
This anniversary is also a time to recognize and celebrate the contributions of my father, William F. Steinen. The son of our founder, he shaped our company's development for more than fifty years. Our growth into a broadly diversified global organization is due to his vision, and personal sense of responsibility for the company and its employees. We continue today to benefit from his leadership. Thank you for sharing our history and our 100th Anniversary Celebration!
Respectfully yours,
William F. Steinen, Jr.
The Modern Era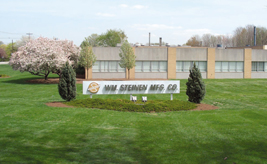 Management recognized that the fluid dispersal field offered tremendous growth opportunities. As a result of expanding product lines and worldwide sales activities the company doubled the size of its facilities and relocated from Newark, New Jersey to Parsippany, New Jersey in 1964. This modern plant houses general sales and administrative departments as well as engineering, research and manufacturing operations devoted to the development and manufacture of fluid dispersal products and allied accessories for the heating and industrial markets.
While Steinen was enjoying commercial success in the fluid dispersal field, beginning in 1970 management implemented a strategy of building future value for its shareholders and employees through acquisitions, mergers and product line expansions. Thenew acquisitions extended our company' s technological capabilities and geographic reach. What evolved was " The Steinen Group of Companies"  that was comprised of separate operating divisions in diverse specialty niche markets.